Brews that embody the diverse landscapes and cultures from across the globe.
His adventures and stories become the content of Meridian Malt's marketing campaigns, shared through engaging blog posts, social media updates and email newsletters. He introduces new beers inspired by his travels in a relatable, enjoyable way. His engaging and fun-loving personality becomes a unique and recognizable symbol of the brand, fostering a sense of familiarity and friendliness. Marty's tales of exploration and discovery inspire Meridian Malt's audience to undertake their own journeys of flavor, deepening their connection with the brand and its offerings. Through Marty, Meridian Malt is not just selling beer, but also sharing an adventure-filled lifestyle that their customers aspire to be part of.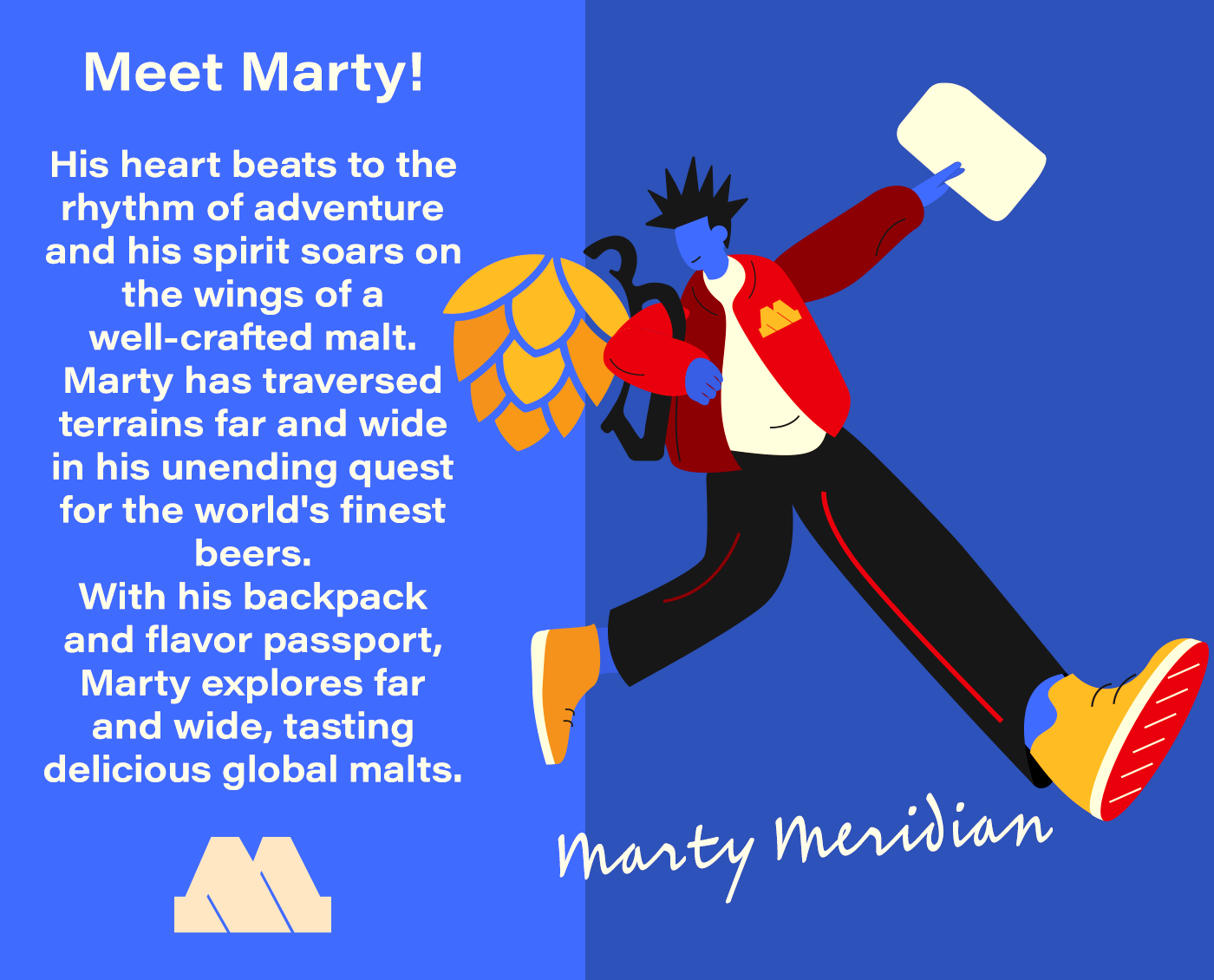 Meridian Malt Half Marathon
Brand Awareness:

Hosting a half marathon will provide extensive exposure for Meridian Malt. From participants to spectators to the wider audience reached through promotional activities and media coverage, the brand will gain significant visibility.
Industry & Community Leadership:

Organizing a human-centric event like a half marathon demonstrates Meridian Malt's commitment to connect with the community.
Customer Loyalty and Community Sense:

For those participating and attending, the marathon will associate Meridian Malt with a memorable, positive experience, fostering customer loyalty. The sense of community developed through the race can be leveraged in future marketing and engagement efforts.
Water is a key ingredient in our beers, but more importantly, it's a vital resource that everyone should have access to. Yet, so many communities around the world are without this basic necessity. Our 'Brews Without Borders' initiative aims to change that.
By choosing Meridian Malt, you're not only embarking on a global flavor journey, you're also making a difference. Together, we can bridge the gap, ensuring clean water is available to all, without borders. We believe in the power of community and the joy of sharing - whether it's sharing a beer or sharing the resources that help us all thrive.
"
Have beer, will travel....responsibly, of course."